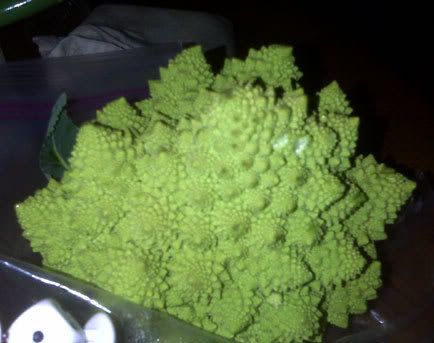 Cauliflower or Broccoli? Broccoli or Cauliflower? The Romanesco something was discovered in Italy in the 16th century and is believed to actually be a variant of cauliflower but is green just like a broccoli and is often sold as such.
Heralded for its anti-carcinogenic properties, like most
Brasssica
genus, it's heavy in vitamins, omega-3 fatty acids, riboflavin and fibre. This ingredient makes a fabulous center piece in any dish or meal.
One study noted its level of isothiocyanates (ITC's) which are bioactive compounds that inhibit the growth of colon cancer cells. Only black and purple cabbage showed higher levels.
The florets grow from a pattern called the Fibonacci series which is a fancy way of saying the sum of two numbers is equal to the two previous.
It is also a premise for a bad Dan Brown novel, but this post is supposed to be about cool vegetables and not sour grapes.
.
Years ago back in film school, a professor got bored showed the class a documentary on fractals and the nature of chaos and how evolutionary biology can be understood mathematically. Well he wasn't very good anyway but that was eye opening.
I like the Romanesco because it's both broccoli and cauliflower and yet something completely different all at the same time. That is an outlook I find both philosophically comforting and pithily descriptive of myself in many ways. All of nature should give me this much satisfaction wrapped in a vibrant green parcel, but alas that is not always the case. Besides, any vegetable could do math better than I could and yes I'm anthropomorphizing but every so often I like to think nature has a sense of humour.
There is more to be learned from its complex replication of simple fractals patterns which make this healthy vegetable (broccoli or not) a mesmerizing substitute for the ordinary offerings at the big box grocery store. It's almost a shame to chop.
Mmmmm...
this needs a song
.