You may have heard of
Don Gorske's record
of having eaten 23,000 Big Macs. Gorske was the Big Mac addict chronicled in Morgan Spurlock's fast food expose
Super Size Me
. Gorske says he eats roughly two of the popular fast food hamburgers a day.
The Big Mac has a long history as a staple of the fast food diet. Perhaps the mixed message of
Super Size Me
was counter productive and showing people how to make their favourite fast foods from fresh local ingredients is the better option than staying away. It does make more sense to show how to make their favourites from fresh local ingredients rather than deter people from going to McDonald's.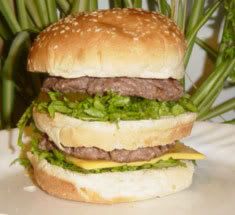 So with that I give you the home made Big Mac.
It was easy and I used organic baby greens. It tastes just like a big mac -- only better. I won't even insult your intelligence by telling you what you already know about the health factor.
There are tons of recipes on the net that replicated the recipe fairly well but being a McDonald's veteran. I worked there in my teen years and discovered cooking while working some overnight maintenance shifts in which we were allowed to cook anything as long as we wrote everything down we used.
Fryers, grills... you name it ... a huge kitchen and 18 years old? We got creative. You get the picture.
Ingredients
1 tablespoon of olive oil
1 pound very lean ground beef
5 oz organic mixed baby greens, chopped
4 Sesame buns plus 4 tops of other (cheaper) buns (similar width)
2-3 Dill pickles, sliced
4 slices processed (American) cheese
1/2 medium Onion, chopped finely (save some for the sauce)
salt and pepper to taste
The sauce:
1/4 cup of thousand island dressing
2 teaspoons of ketchup
1 teaspoon of sesame oil
1 teaspoon of sugar (ok to substitute splenda or sugar sub)
1 tablespoon of finely chopped onion
1 tablespoon relish
1 teaspoon of white wine vinegar
1 tablespoon of mayonaise (don't use the low fat stuff -- it contains too much sugar)
1 tablespoon of worcestershire sauce
Directions
Combine the sauce ingredients and set aside.
Cut the tops of the extra top buns and reuse for other hamburgers or make bread crumbs.
Either place buns in a toaster oven (a top, a middle and a bottom) for each slice (easiest way) or heat a pan and fry the buns until golden brown.
You'll need to grab a golf ball size of ground beef, flatten it and even it out so it cooks evenly.
Heat the olive oil in a pan and fry the burgers for about a minute each side. The burgers should be about the size of a regular big mac. The ingredients are supposed to blend so don't make them too big unless you have a ginormous mouth. Cover to keep warm.
Turn the meat and season with salt and pepper. Normally, McDonald's would add the onion on top of the meat, but it was reconstituted so please do not try this at home!!!
McDonald's buns are smaller than most commercially available buns, so smaller buns are not only better, but healthier.
To make the sandwich, place a tablespoon of the sauce on the lower portion, and a tablespoon on the middle. Place enough of the greens to cover both the middle and the bottom. Place a slice of cheese on the bottom and two pickle slices on the middle. Then two burgers on each and then a teaspoon of the chopped onion on each. Top with sesame bun and it's done.
note: I tried this with whole wheat buns and chopped baby spinach but it felt like biting into a garden hedge. Use one or the other, don't use both.
If you want a more authentic taste, eliminate the sesame oil and the worcestershire but I think it's better and more flavorful that way.
You can substitute romaine lettuce for the greens or use the green leafy part of iceberg.