I read a recipe for Risotto that was described as 'fast-cooking.' I had to laugh. Risotto is never fast and probably shouldn't ever be. It's a very slow yet therapeutic dish to make. I find it very calming to concentrate on the rice absorbing the liquid knowing that at any moment, I'll have to add more. In doing so, I forget about all my worries and focus on immediate goals.
This is a somewhat speedier version of Risotto, the way that professional chefs prepare it. It's sort of the omelette of haute cuisine especially in Europe and New York. Parboiling the rice before hand shaves cooking time by about twenty minutes. I used coconut milk instead of cream because it is lower in saturated fat.
Servings: 2 (about 1/2 cup rice per serving)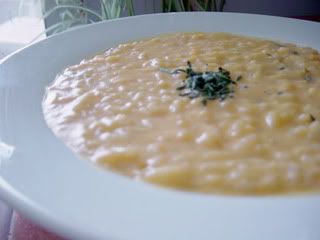 Ingredients
1 medium butternut squash
2 tablespoons olive oil
1 cup risotto rice, preferably Aborio
4 cups chicken stock
2 shallots, minced
1 clove garlic, minced
1 tsp cinnamon
1 cup coconut milk
Kosher salt and freshly ground black pepper
1/4 cup of Parmasen Cheese
2 tbsp fresh or dried Summer Savory
2 tbsp butter
Directions
1. Preheat oven 400 degrees F and put on some music; preferably something either soothing or catchy.
2. Brush a baking dish with a tablespoon of olive oil.
3. Cut the butternut squash in half, scoop out the seeds and insides and place flat on the baking dish. You can leave the skin on.
4. Bake the squash for 45 minutes.
5. While the squash is baking, place the rice in a pan, cover with water to about an inch above and parboil for seven minutes. This will drastically cut down on the cooking time. Set aside.
6. Heat the chicken stock in a pan and keep warm. Place in a pourable container cause you're going to be pouring from it a lot.
7. Heat the other tablespoon of olive oil in a pan and saute the shallots and the garlic until soft.
8. Add the rice and season with salt and pepper.
9. Pour in a half a cup of chicken stock and stir until the liquid has been absorbed by the rice. Keep the heat low and repeat this process until all the chicken has been absorbed. You want to maintain a slow boil.
10. When the Squash is ready (it should be soft almost like mashed potato), scoop out from the skin with a spoon and place in a blender.
11. Add a tablespoon or two of the chicken stock and blend until smooth.
12. Add the cinnamon and blend again.
13. When all the stock has been absorbed, add the puree and heat through.
14. Add the summer savory
15. Add the coconut milk and the butter and stir until al dente.
Authentic Italian Risotto is very al dente (chewy) but you might like it softer. Keep stirring until desired tenderness is reached.
16. Add the coconut milk and stir in the Parmesan cheese.
17. This makes two servings. Serve with a smidgen of summer savory on top and a nice glass of white wine.